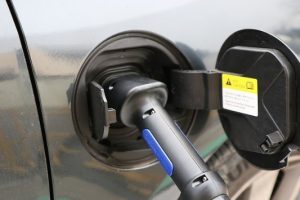 According to new government data, the number of electric cars on the road in Britain has more than doubled in the past year.
There were a total of 45,326 plug-in and hybrid cars on the roads at the end of 2015, compared to 20,522 at the end of 2014, which is an increase of 120%. This compares to just a two per cent rise in the sale of traditional engine cars over the same time period.
When you compare these figures to 2010 where DVLA data shows were just 134 electric vehicles on the roads, the rise of plug-in and hybrid cars is incredible.
The growth increased quite substantially at the start of 2011, after the Government introduced the plug-in car grant scheme which offered up to £4,500 off the price of a new electric vehicle.
The best-selling full electric car in the UK is currently the Nissan Leaf, with 11,219 recorded as on the roads at the end of 2014. This is an impressive number, but it is still dwarfed by the best-selling hybrid car, which is the Mitsubishi Outlander PHEV currently with 16,100 models on British roads.
Electric vehicle manager at Nissan GB, Edward Jones, believes that the electric vehicle market in the UK is currently at a tipping point.
Speaking of people changing to electric vehicles, he said, "each year we see thousands more motorists switched on to the capability, performance, and reliability of pure electric motoring.
"With current electric vehicle ranges enabling more than 90 per cent of daily driving needs, we believe the UK is at a tipping point for mass EV adoption."
Advancements in technology are helping more people confidently switch from petrol or diesel cars to electric, as they can travel greater distances confident in the knowledge that the car will be able to handle the journey.
The increasing numbers of charging stations opening across the country, and other incentives such as some bigger cities allowing drivers of electric cars to use bus lanes are also encouraging more people to make the switch to an EV.
The amount of plug-in hybrids (PHEV) being sold are also increasing as people choose to opt for a car which offers the cleaner output of an electric car, whilst maintaining a back-up combustion engine to help them travel even greater distances.
For example, figures from BMW show that their upcoming 330d PHEV is already sold out until 2017, and the trend of more people choosing electric and PHEVs over a traditional car is expected to continue.
As it stands, the number of electric vehicles is still a fraction of the 31 million petrol and diesel engine cars in the UK, but it is encouraging to see more people making the change.
If you are one of those people looking to make the change to a hybrid or electric vehicle and are looking for an easy way of selling your current car, why not take a look at our free app?
With the Wizzle sell my car app, you have the power to appraise your own vehicle, which is then broadcast directly to hundreds of dealers all looking for your exact make and model. They then contact you with a price for your car, and will even come and collect it at a time and date which is convenient for you.
Wizzle is a free service for you to use to sell your car, and with no hidden costs, you will get the best possible price for your car without all of the usual hassle.