Hyundai Motors India Ltd is the wholly owned subsidiary of Hyundai Motor Company, Korea. It is one of the global majors in the auto industry. In India, from being an unknown name in the 1990s, the company has reached the position of the largest vehicle exporter and the second largest carmaker. It is with an array of passenger cars that offered newer and better technologies than what their rivals offered that Hyundai India has reached the great position that it enjoys at present.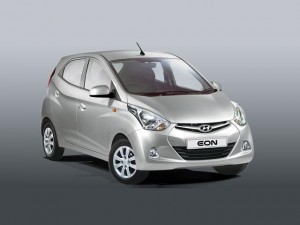 One of the recent launches of Hyundai was a compact car named Eon, which hit the Indian roads in the year 2011. Though Hyundai had a strong presence in the hatchback segment, it did not offer any budget cars to the buyers until Eon was launched. Unlike its siblings, the Eon is compact and less expensive. It is also one of the best-looking cars in the segment.
Hyundai Eon ex-showroom rate of INR 2.84 lakh to 3.99 lakh, the Eon carries the fluidic design language quite emphatically on its exterior. As a result, it has the most beautiful and most expressive design and styling in its segment. Though a compact car with a low price, it exudes a premium feel to the onlookers.
Hyundai Eon might look very small from the outside. However, on the interior, it does not feel small. It is quite spacious on the inside and offers good quality plastics that boost the feel of the car. The maker has brought in a touch of its highly successful fluidic concept to the central console of Eon. Also, the Eon is equipped with a multimedia system comprising of CD MP3, Aux-in port and USB, which are a rarity in cars of the same class and segment.
This compact car runs on a small 814 cc engine, which can generate a maximum power of 56 PS. Though this might seem a bit low power, the car can easily navigate through the city roads. The engine is powerful enough to negotiate the city traffic. However, on highways and rural conditions, the engine may feel less powerful. The Eon offers a good mileage of 21.1 kmpl.
Hyundai Eon offers a comfortable ride to the passengers. The cabin space might feel smaller when compared with that of Nano or Alto, but it is not congesting at all. With a boot space of 215 liters, the Eon offers both space and compactness.
As far as safety features are concerned, Hyundai has packed as much features as it can in this compact car. The Eon comes with driver side airbag, impact beams on door, crumple zones, self-restraining seat belts and so on.
In short, it is the ideal car for a city dweller.
For information on Upcoming New Bikes in India log on to – http://bikeportal.in/newbikes/