Porsche is a name synonymous with fast sports cars and many of its loyal customers were against the idea of a SUV. However, the Porsche Cayenne has been on the market for several years and appears to have gained an appreciative audience. The Cayenne is powerful, fast and comes with extra feature that any luxury car should posses. It has become the standard by which other SUV's are judged. The moment we laid eyes on the newest Porsche Cayenne 2015, we fell in love – with the design, in-car features and technical specs. According to various specialists in the auto industry, this year's Cayenne renders ultimate power, prestige and performance.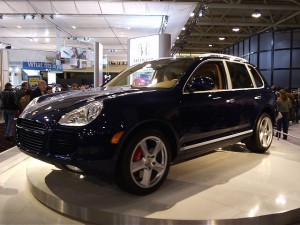 The latest line-up
Porsche has listed just four trim levels for 2015. These are the Cayenne diesel, Cayenne S, Cayenne turbo and, for the first time, a hybrid. This is the first luxury plug in hybrid SUV on the market. Porsche engineers have been working hard behind the scenes and all models show a power increase coupled with more efficient engines. The available options list has grown longer again. It is now possible to purchase a 360 degree camera – this will ensure complete visibility. There is also the option to have cooling rear seats. Now that's a cool feature which will make your summer a lot more bearable! All new models have the new, improved suspension system although there are only a few tweaks to the outward appearance.
Fuel economy
As with all Porsche vehicles the emphasis is on power. The Cayenne S is capable of delivering 420 hp from a 3.6 litre twin turbo V6. Surprisingly, the mileage figures are fairly respectable – 17 mpg in the city and 24 mpg on the highway. The diesel runs a slightly smaller3.0 liter turbo diesel which delivers 20 mpg in the city and 29 on the highway. The hybrid version of Cayenne S is in a class of its own. It delivers 22mpg when on using both power sources and a whopping 47mpg when in hybrid electric mode. On top of this it is still capable of going from 0-60 in 5.4 seconds. The final model carries a 4.8 litre V8 and will give 14 mpg around town and 21mpg on the open road.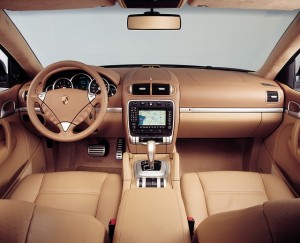 Trim
All versions of Porsche's newest Cayenne's come equipped with active all wheel drive and an 8 speed Tiptronic gearbox. Alloy wheels, bi-xenon headlights, rain sensing wipers and dual zone climate control are also standard. A power lift tailgate is a useful additional and the ten speaker in-car stereo system can make you feel like you are at a concert. On hot days or when needed the refrigerated glove box can be a valuable asset. Leather seating is, of course, obligatory. The Cayenne S, Cayenne hybrid and Cayenne turbo all have their own extra equipment to make the experience even more enjoyable.
All options are available as extras and it is possible to design your perfect car. It should be noted that these options are not cheap. A GPS system with audio interface will set back potential owners $3,675 whilst upgrades to the stereo system can range from $500 to just under $6,000. These can quickly turn a $62,695 car into a $200,000.
Safety & Power
The latest Porsche Cayenne has yet to be given an official crash test rating but Porsche has included a high tensile steel reinforced chassis coupled with roll over protection. Should the vehicle roll the airbags will automatically be deployed. It is possible to add more airbags from the options list.
Porsche is designed with speed in mind and this large beast is no different. A Cayenne is still a Porsche and all of the range boasts excellent 0-60 times and top end speed. Unsurprisingly, the diesel version is the most sluggish from starting with the turbo being truly electrifying. However, the hybrid has a huge amount of torque and is surprisingly nimble on its feet. It can even drive up to 78mph on electric only power.
The handling is responsive and provides an excellent range of feedback. It is possible to change into sport mode where the handling will make it seem like you are driving a sports car and not an SUV.
Author Bio: John Smith love cars and to write about them. He has an intense knowledge about cars and he also recommends http://www.design911.co.uk/ for Porsche parts, spares and accessories.